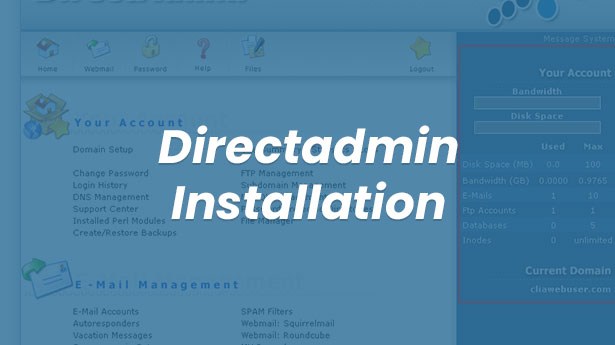 If you have a server with Linux operation system and look for an alternative hosting control panel based on price/performance, this topic is exactly for you. After the increasing exchange rate of dollar and the rises to the hosting control panels, many of us started looking for alternative panels. As Melibera Web design and hosting services, we decided to write an information sheet in this article to both our server customers and those who seek help on the hosting control panel.
We will explain the installation of directadmin which has lifetime license option for your Linux servers. Depending on your Server features, your installation process will be completed in about 20-minute operations. In our following articles, we will also publish informative sheets on optimization and security.
How to install Directadmin?
For Directadmin installation, you need to make SSH access to your server first. After making a SSH access;
You can install the features you need to install by entering the command below;
yum install wget gcc gcc-c++ flex bison make bind bind-libs bind-utils openssl openssl-devel perl quota libaio libcom_err-devel libcurl-dev gd zlib-devel zip unzip libcap-devel
With the command below, download directadmin installation file to your server.
>wget http://www.directadmin.com/setup.sh
After downloading Directadmin installation file, set the permissions with the command below.
chmod +x setup.sh
Everything is ready now and we can start the installation.
./setup.sh
After starting the setup process, Client ID and License ID credentials will be asked. Type your directadmin customer ID or Client ID number which is sent by your hosting company. Type your license number in License ID field.
Please enter your Client ID : Customer number that you can learn your server provider

Please enter your License ID : Licence Number
Then, license and IP will be checked. If the IP address is correct, you can continue by pressing Y key.
After your installation is complete, directadmin will give you a complicated password. You can write this password down, or update your directadmin password with a command below.
passwd admin
If you experience a problem, you can forward it via comments or contact us for license services.